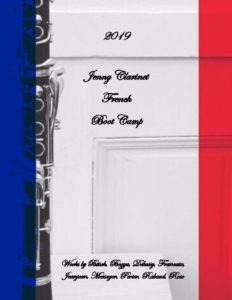 Are you looking to add a little je ne sais quoi to your practice routine?
Maybe you want to practice à la française?
Or maybe you just want to learn the Francaix Concerto or the Debussy Première rhapsodie, but don't know where to begin?
Say no more! I've created the 2019 Jenny Clarinet French Boot Camp, a 12-month practice plan centered around learning standard French repertoire and etudes! Each month contains a different method book or solo work, which I have organized into daily assignments. (Here is a sample boot camp.) Each month includes instructions and advice for each book or piece. If you follow my boot camp, you'll complete one book, movement, or piece each month in 2019 – oh là là!
In addition to the daily boot camp calendar, you'll get a guide with tempo suggestions, practice tips, and monthly French clarinet and music trivia!
So, if you want to take a little French vacation without even leaving your practice room, the 2019 French Boot Camp is for you!
Please note: Even though this Boot Camp was originally created in 2019, you can complete this at any time – the only difference will be the dates listed on the Boot Camp calendars.
---
Here's the monthly schedule:
January – Rose 40 Studies (#1-20)
February – Rose 40 Studies(#21-40)
March – Messager Solo de concours
April – Bitsch 12 Études de rythme
May – Jeanjean 18 Études de perfectionnement
June – Rabaud Solo de concours
July – Bozza 14 Études de mécanisme
August – Debussy Première rhapsodie
September – Périer 331 Exercices journaliers de mécanisme
October – Francaix Concerto, mvt I
November – Francaix Concerto, mvts II-III
December – Francaix Concerto, mvt IV
---
If you'd like to add a bit of French flair to your practice routine, click here to purchase the 2019 Jenny Clarinet French Boot Camp (you can also check out my other digital clarinet downloads)!
If you'd like to learn more about some of my other Boot Camps I've created, click here.
Vive la France!